Neely & Ashley have started this new Sunday Social link up.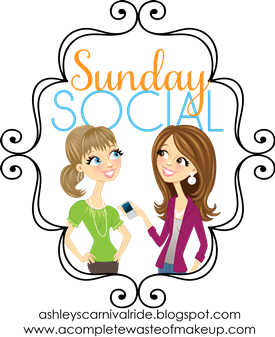 I'm in desperate need of more followers. So fingers crossed, hope this helps. Please follow my blog!
Here's my answers:
1. How did you come up with your blog name?
Blue Skies refers to not being depressed, no black cloud.
2. What is your favorite thing about blogging?
Meeting new people and reading their blog & coming across new info that makes life better
3. What is one thing you have discovered because of blogging and now can't live without?
Currently monthly sample subscriptions, addicted!
4. Facebook or Twitter? And why?
Facebook, twitter is so coded and hard to understand abbreviations
5. If one celeb read your blog, who would you want it to be?
Marilyn Monroe, wouldn't that be interesting if she was still alive!
6. What is something you want people to know about your blog?
There are bargains waiting for you, so read it today!